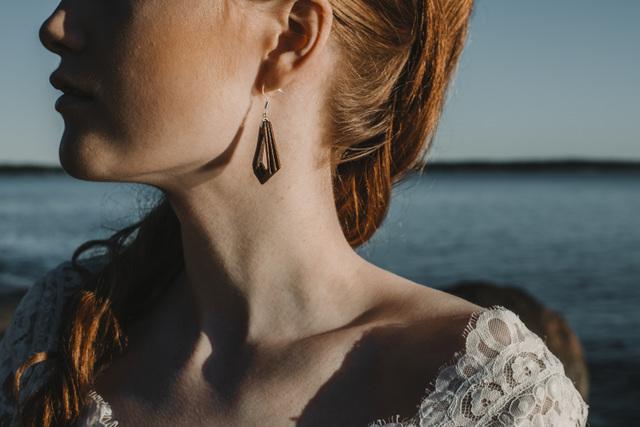 We updated our DAAM wooden earrings. No need to worry, earring designs are the same, but we upgraded the silver parts and revamped the jewellery box. DAAM earrings are made from FSC certified wood, Eco-Act silver and hooks are made with solid 925‰ silver, from Italy.
We chose Eco-Act silver for its ecological and sustainable attributes. In Eco-Act silver copper is replaced by white metals. Usually copper is used as an alloy metal in conventional sterling silver. It is also free form nickel or other allergens. Eco-Act silver achieves the same finish as traditional silver without the use of environmentally harmful or hazardous chemicals. There is no occupational health risk factors or emission risks when working with Eco-Act silver. Lastly, it has a higher silver content of 964 ‰ compared to conventional silver 925‰. Eco-Act silver is developed by Sirokoru. Sirokoru is based in our neighbouring town Kaarina, Finland.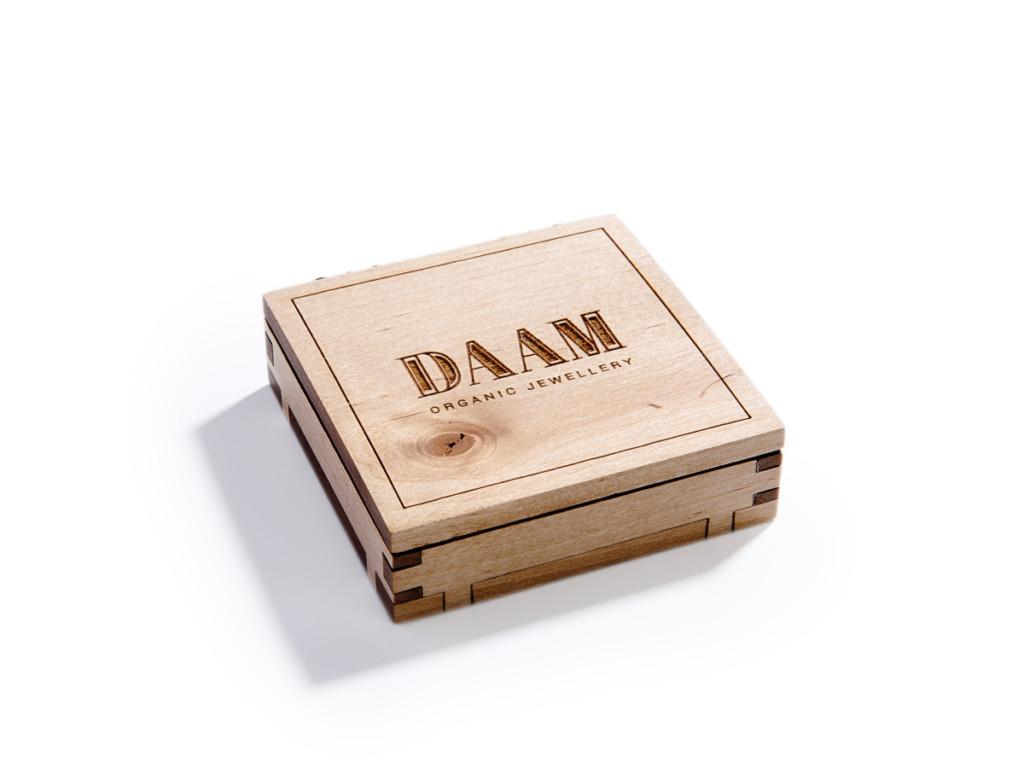 SUSTAINABLE JEWELLERY BOX FROM WOOD FOR WOODEN EARRINGS.
Choose between a heat-treated Finnish birch box or a FSF certified eco cardboard box. Birch boxes are manufactured by Hermandia in Turku, Finland and cardboard boxes come from Denmark.
Birch box has the familiar look of a SÖÖR box. We updated the font and added a jewellery certificate for every DAAM wooden box. Wooden jewellery boxes are treated with organic oil and wax finish to enhance the natural scent of the birch wood. Inside the box you will find the earrings placed on a linen pillow to keep the jewellery in place. By choosing to use linen in our packaging we can minimise the use of plastic in our products. The linen mats are manufactured in Finland from Finnish linen. We can also do an engraving on the wooden box.
When ordering DAAM earrings without the birch box, you will get a your earrings in a sustainable jewellery box. The jewellery box comes with same features as the wooden one, except we cannot offer engravings on the cardboard box.
The main material of DAAM earrings is FSC certified wood, therefore it only made since to use a FSF certified eco jewellery box. The FSC®️ mark guarantees that raw materials come from an FSC®️ forest, where no more trees are cut down than the forest can reproduce. This means better protection of the animal- and plant life, and all foresters have proper training, safety equipment, and a decent wage.