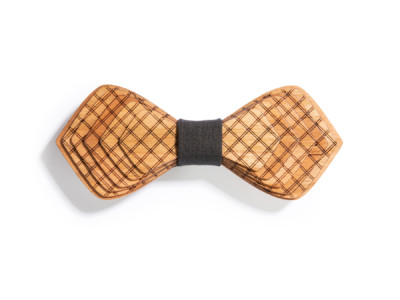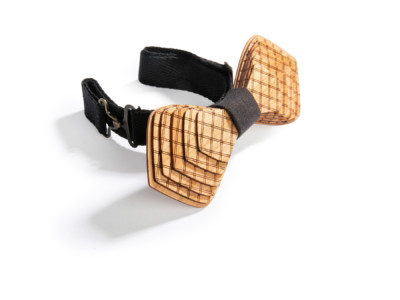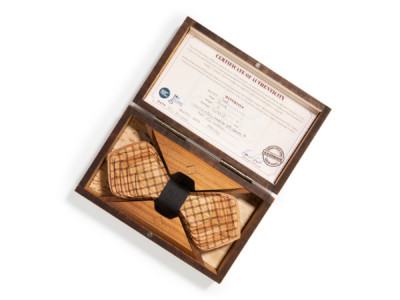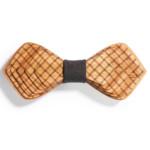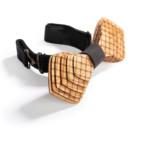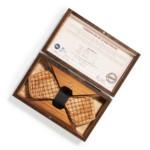 SööR Denis, Cherry / Dark grey
Shipping calculated at checkout.
Weight
13 g
Dimensions
12.3 × 4.9 × 0.9 cm
Description

Wood: Cherry
Origin: North America
Material is surplus wood from industry in Hollola, Finland

Center color: Dark grey
Fabric is recycled from various tailors.

A detailed description is in the certificate of authenticity. Every SööR is numbered.
Innovative and elegant, SÖÖR Neckwear is a modern yet timeless choice to complete your look. Head out for urban adventures or participate in a special event, SÖÖR Neckwear provides you with a sharp and unique look with Nordic aesthetics for any occasion.
SÖÖR is handmade from nature's finest materials and premium surplus textiles with a considered design process. Each SÖÖR Neckwear preserves 4 m2 sized piece of Finnish nature.
This SÖÖR Neckwear is designed and handmade in Turku, Finland by Hermanni Vuorisalo.
Delivery time 7 – 14 workdays. Return time 14 days.
I love my wooden bowtie. It is unique, beautiful and sustainable. It has a wonderful story behind it and all the small amazing details about the bowtie and box is just wonderful to discover.
Magnificent product,
great handcraft 👍
Five star worth of service. My confirmation child from year 2020 thanks.
All Hermandia products are carefully handmade with a detail-oriented working method. Careful craftsmanship guarantees the uniqueness and the high quality of the product. Hermandia Collection represents a creative and modern approach to Finnish design while respecting traditions.
Our material choices are guided not only by quality but also by ecological and ethical values. We use six different types of wood originated from responsibly managed FSC-marked forests around the world. The wood is veneered in Hollola, Finland. The glue used in products is organic, and we use our own surface treatment to finish the look with nature's own protective substances so no solvents or chemicals are needed.
The textiles used in the accessories are high-quality surplus materials, hand-picked by Hermanni Vuorisalo from the collections of tailors. The adjustable neck strap is made from cotton woven in Finland.
The neckwear comes in a handmade wooden case designed by Hermanni Vuorisalo.
Each SÖÖR Neckwear is numbered, and they come with a certificate of authenticity. Each SÖÖR Neckwear has its own matching pair of DAAM Earrings that are carved from the same wood.
By buying a wooden SÖÖR Neckwear you take part in protecting Finnish nature. For each product sold, we protect the Finnish nature in a 4 m2 area in cooperation with the Finnish Natural Heritage Foundation. The protected area: Lapland, Ullatieva N7590070.000 E367911.000.
And why do we use the word neckwear instead of wooden bowtie? That's because we respect traditions. Bowtie is a strip of cloth that is tied. Our wooden neckwear are formal one-of-a-kind accessories.
We are carved from the same wood
Every neckwear has its pair of DAAM earrings that is carved from inside of a SÖÖR neckwear.
SÖÖR embraces organic materials, circular economy, quality, and aesthetics of nature.
Free shipping within Europe. Worldwide shipping 29 €.






Can't find a SÖÖR to your liking?
You can always design your own!
Show your caring and give a gift that matters. The Hermandia Gift Card will surprise the recipient with its uniqueness and provides a timeless design piece to be enjoyed for years to come.