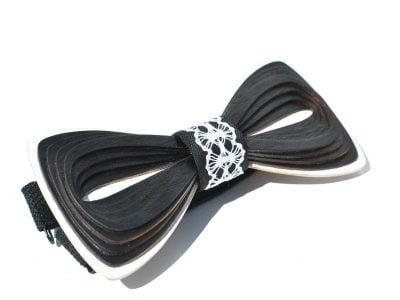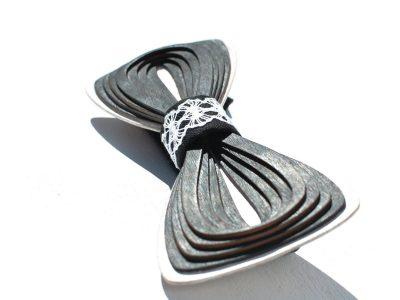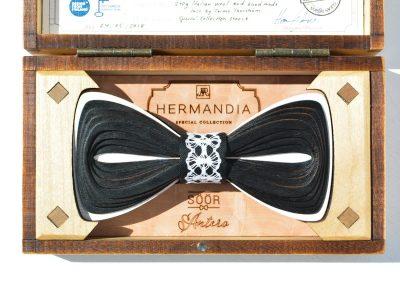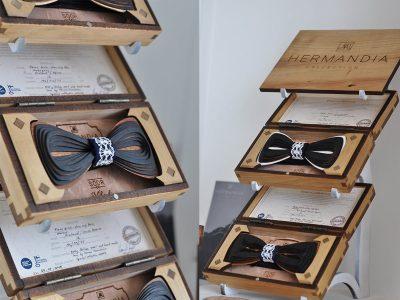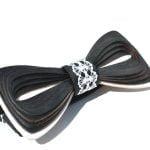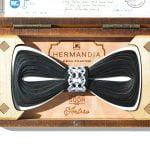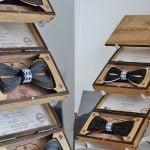 Shipping calculated at checkout.
Weight
220 g
Dimensions
10.6 × 5.3 × 0.7 cm
Description

Wood: Flame birch that is burned with a Japanese Shou sugi ban technique to be completely black. The white layer on the back is handled with homemade lye from the ashes of birch. Then waxed with natural ointments in which these are added natural titanium dioxide.
Origin: Finland

Ribbon color: White hand-made lace by lace artist Tarmo Thorström. Tarmo has also designed the pattern of the lace traditional to Rauma Finland. The Black worsted wool back textile is Italian wool recycled from tailor Sami Eklund.

The choker is knitted in Finland from cotton.

The box is heat-treated Finnish birch with Madrona root on its bottom.
These one-of-kind SÖÖR Antero models were made for a charity event in Monaco, held by the Bon'Art association and the Good Planet organization. The event was held in a Villa in the town of La Turbie. In the event, there were artists from all over Europe who make sustainable art. Hermanni Vuorisalo made a five-piece collection that was auctioned for the good cause. In collaboration, Tarmo Thorström knitted and designed the lace around the neckwear.
Special thanks to Hermannis agent Hanne Haapasalo who organized our participation.
NOW you can order on too. This unique piece can be modified to your needs by changing to different woods of  adding leaf golding. I recommend contacting the designer shop(a)hermandia.fi and discussing details.
Like every SÖÖR also this comes with its own serial number.
This SÖÖR Neckwear is designed and handmade in Turku, Finland by Hermanni Vuorisalo.
Delivery time 30 workdays. No return right – made to order.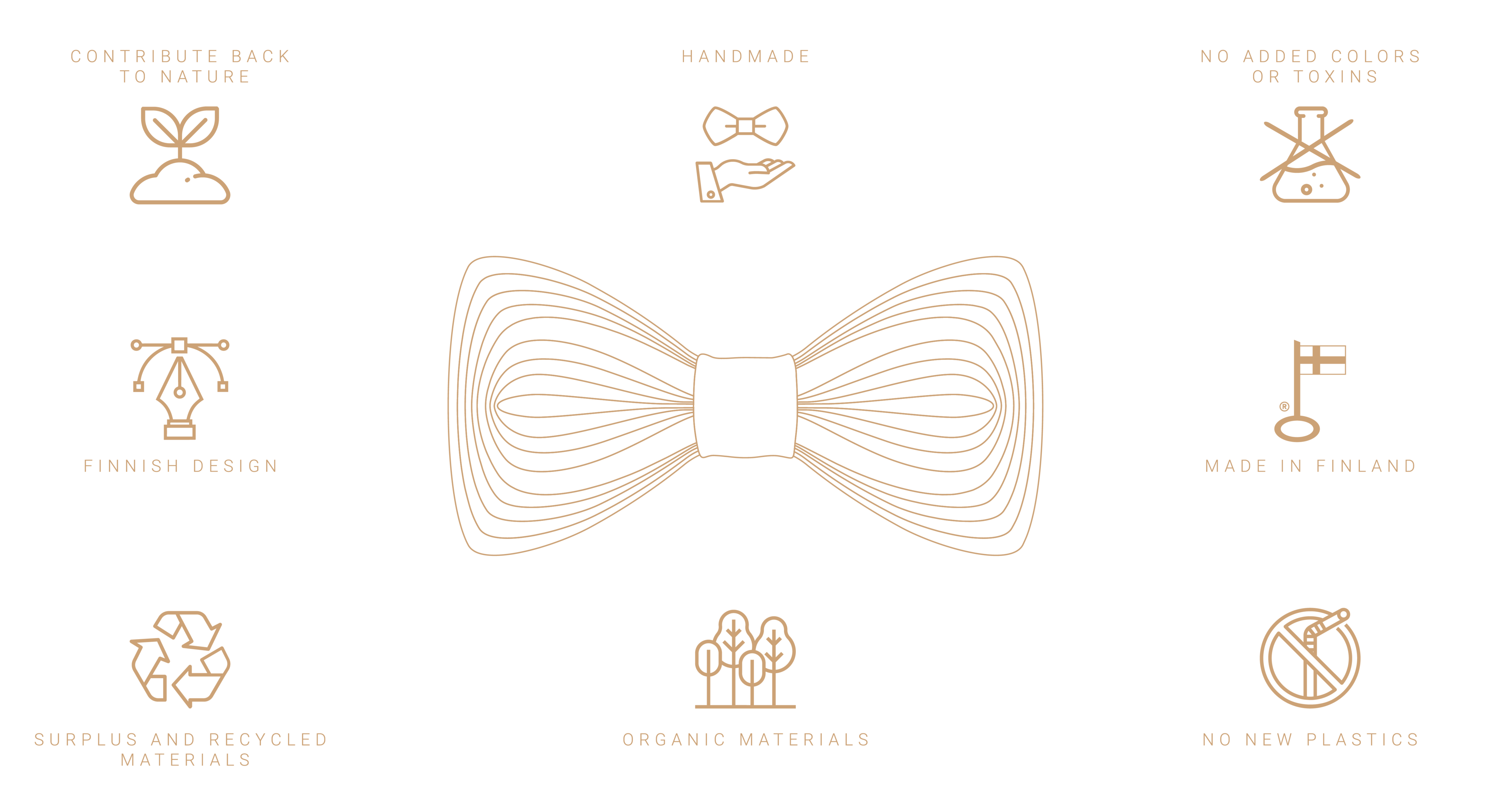 I love my wooden bowtie. It is unique, beautiful and sustainable. It has a wonderful story behind it and all the small amazing details about the bowtie and box is just wonderful to discover.
Magnificent product,
great handcraft 👍
Five star worth of service. My confirmation child from year 2020 thanks.
All Hermandia products are carefully handmade with a detail-oriented working method. Careful craftsmanship guarantees the uniqueness and the high quality of the product. Hermandia Collection represents a creative and modern approach to Finnish design while respecting traditions.
Our material choices are guided not only by quality but also by ecological and ethical values. We use six different types of wood originated from responsibly managed FSC-marked forests around the world. The wood is veneered in Hollola, Finland. The glue used in products is organic, and we use our own surface treatment to finish the look with nature's own protective substances so no solvents or chemicals are needed.
The textiles used in the accessories are high-quality surplus materials, hand-picked by Hermanni Vuorisalo from the collections of tailors. The adjustable neck strap is made from cotton woven in Finland.
The neckwear comes in a handmade wooden case designed by Hermanni Vuorisalo.
Each SÖÖR Neckwear is numbered, and they come with a certificate of authenticity. Each SÖÖR Neckwear has its own matching pair of DAAM Earrings that are carved from the same wood.
By buying a wooden SÖÖR Neckwear you take part in protecting Finnish nature. For each product sold, we protect the Finnish nature in a 4 m2 area in cooperation with the Finnish Natural Heritage Foundation. The protected area: Lapland, Ullatieva N7590070.000 E367911.000.
And why do we use the word neckwear instead of wooden bowtie? That's because we respect traditions. Bowtie is a strip of cloth that is tied. Our wooden neckwear are formal one-of-a-kind accessories.
We are carved from the same wood
Every neckwear has its pair of DAAM earrings that is carved from inside of a SÖÖR neckwear.
SÖÖR embraces organic materials, circular economy, quality, and aesthetics of nature.
Free shipping within Europe. Worldwide shipping 29 €.






Can't find a SÖÖR to your liking?
You can always design your own!
Show your caring and give a gift that matters. The Hermandia Gift Card will surprise the recipient with its uniqueness and provides a timeless design piece to be enjoyed for years to come.